I sat down to write today's blog and decided I needed a mood lightener. First, I thought about sharing one of those hilarious "it could only happen in HR" stories. But we're not a big office and I'd run the risk of exposing personal information about an employee, so scratch that idea.
Next, I dug through my humor folder, where I save stuff that tickles my funny bone, to see what popped. I had a reminiscent chuckle over this unattributed list found on a forum a while back.
Rules Left Out of "LIFE'S LITTLE INSTRUCTION BOOK" That We Should Know:
The two most common elements in the universe are hydrogen and stupidity.
If at first you don't succeed, skydiving is not for you.
Money can't buy happiness, but it sure makes misery easier to live with.
Deja Moo: The feeling that you've heard this bull before.
Psychiatrists say that 1 of 4 people are mentally ill. Check out three of your friends. If they're OK, guess what....
Nothing in the known universe travels faster than a bad check.
A truly wise man never plays leapfrog with a unicorn.
It has recently been discovered that research causes cancer in rats.
Always remember to pillage BEFORE you burn.
If you are given an open book exam, you will forget your book.
COROLLARY: If you are given a take home test, you will forget where you live.
The trouble with doing something right the first time is that nobody appreciates how difficult it was.
It may be that your sole purpose in life is simply to serve as a warning to others.
You can't fall off the floor.
The average woman would rather have beauty than brains, because the average man can see better than he can think.
Clothes make the man. Naked people have little or no influence on society.
Vital papers will demonstrate their vitality by moving from where you left them to where you can't find them.
Law of Probability Distribution: Whatever it is that hits the fan will not be evenly distributed.
On second thought, there are a couple of inappropriate references on this list, so I'd better pass.
I next tried to find a source of "politically correct" humor online that I could tap into. Instead I found ample evidence that the phrase "politically correct humor" is something of an oxymoron. In my search, I did find Tips for Using Humor in the Workplace and some pretty serious discussions about what is and is not funny in the workplace, but there were few usable examples of the recommended clean, "inoffensive to all" humor.
Finally, I gave in and snagged this from someecards. Mea culpa.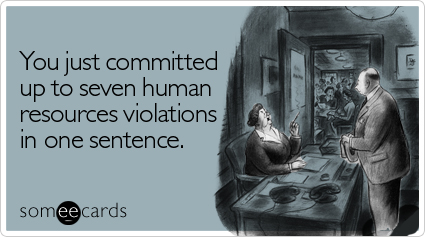 Cultivate your high-performance team with social HR software. Start your free trial of TribeHR today.